Yamandu Costa Concert, April 15th 2016, 8:00PM
Colorado Brazil Fest, in collaboration with the Boulder Guitar Society and Dan & Diane Concerts, is proud to present one of the most important and virtuosic seven-string guitar players from Brazil: Yamandu Costa.
"Brazilian guitarist Yamandu Costa attacks the nylon strings of his guitar with a demonic playfulness. The fingers of his left hand trace lightning riffs, pausing briefly to block out full chords as they range up and down the neck with effortless zeal. His body tenses with a kind of exhilaration. His head tilts back, then sideways; his eyes close, then open, wide as moons; his legs cross and uncross, then stretch out before him—as though he and his instrument were both being played by some virtuosic sprite, and he were merely an amazed observer. The music is as technical as the most challenging classical repertoire, but the rhythms bounce and glide along with the vigor of dance grooves from some charmed, imaginary land." Guitar Player Magazine
ONLINE SALES END AT 4:00PM APRIL 15TH
THERE WILL BE TICKETS FOR SALE AT THE DOOR!
DOORS OPEN AT 7:00PM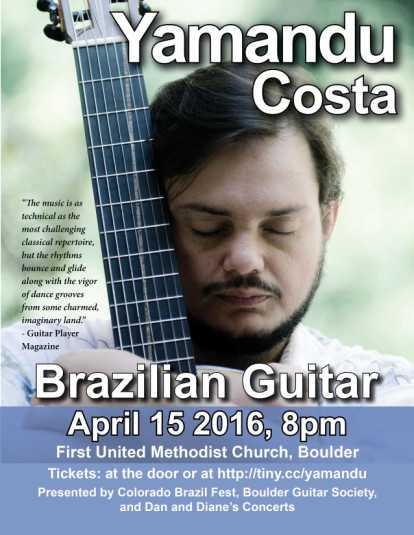 Help support Colorado Brazil Fest 2016
Hey Brazilian music and culture fans! 
Make a tax deductible contribution to Boulder Samba School. Your contribution is received by Boulder County Arts Alliance and re-granted to the individual or organization through the BCAA Fiscal Sponsorship program.